This is a post that I wrote for the Noction blog:
Like other very successful protocols such as HTTP and DNS, over the years BGP has been given more and more additional jobs to do. In this blog post, we'll look at the new functionality and new use cases that have been added to BGP over the years. These include various uses of BGP in enterprise networks and data centers.
Recently, I've been looking a bit at BGP in datacenters, and it's really interesting to see how BGP is used in such different ways than it is for global inter-domain routing.
Permalink
- posted 2020-03-23
For 2020, there will be hands-on BGP training courses in association with NL-ix on the following dates:
Friday 20 March, NL-ix offices The Hague has been postponed/canceled
Friday 26 June, NL-ix offices The Hague (sign up here)
Friday 9 October, NL-ix offices The Hague (sign up here)
Permalink
- posted 2020-02-12 -
🇳🇱
Nederlandse versie
We shouldn't gauge the success of IPv6 by looking at how much IPv6 replaces IPv4, but by how much IPv6 complements IPv4. And it's already doing that quite well today by making IPv4aaS (IPv4 as a service) possible. And IPv4aaS will make ISPs require IPv6 when peering with streaming services and other big content providers.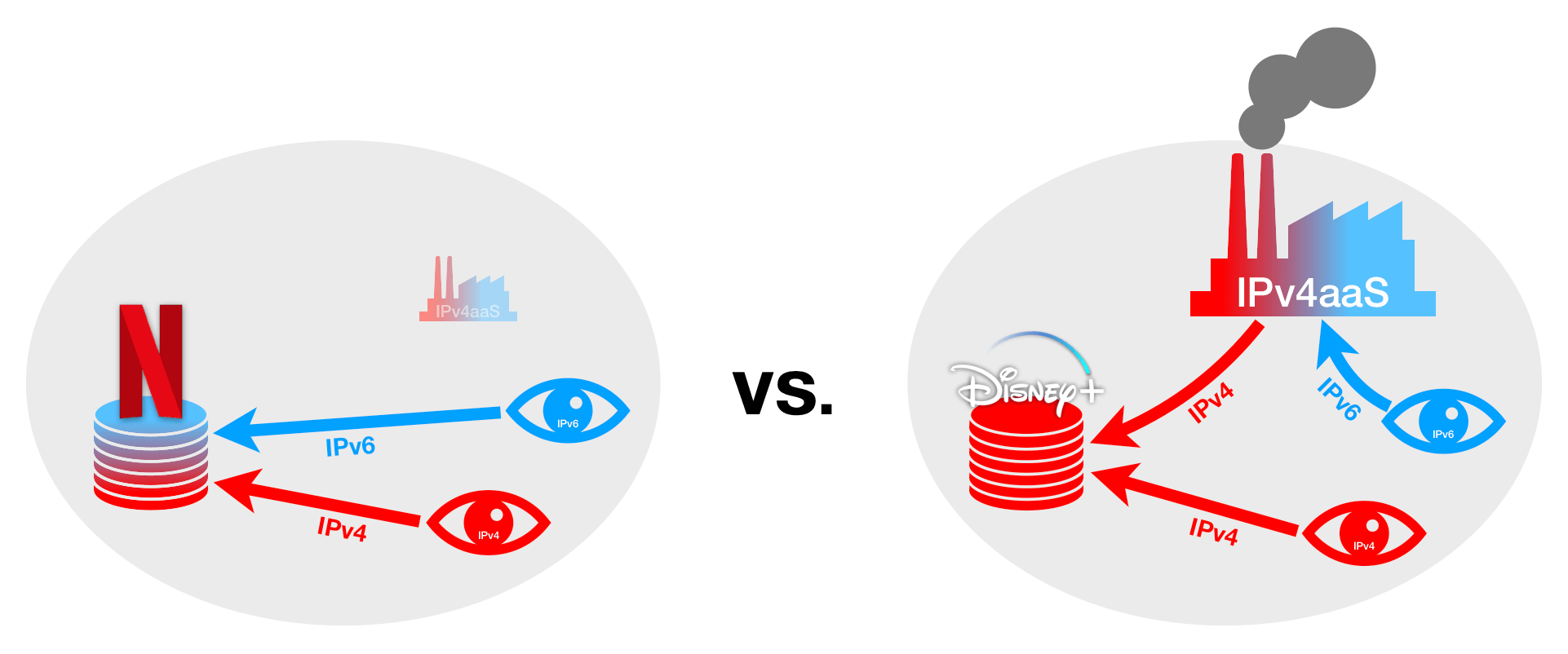 Permalink
- posted 2020-01-23 -
🇳🇱
Nederlandse versie
► In a paper for the HotNets'19, seven researchers admit that "beating BGP is harder than we thought". (Discovered through Aaron '0x88cc' Glenn.) The researchers looked at techniques used by big content delivery networks, including Google, Microsoft and Facebook, to deliver content to users as quickly as possible. This varies from using DNS redirects to PoPs (points of presence) close to the user, using BGP anycast to route requests to a PoP closeby and keeping data within the CDN's network as long as possible ("late exit" or "colt potato" routing).
Turns out, all this extra effort only manages to beat BGP as deployed on the public internet a small fraction of the time.
Full article / permalink
- posted 2019-12-30
Presentation slides from my lightning talk "AS paths: long, longer, longest" at the RIPE-79 meeting in Rotterdam, 18 October 2019.
Permalink
- posted 2019-11-29