► Ben Cox (Benjojo) has an interesting post about stuck BGP routes and a flaw in many BGP implementations where they hang when their neighbor stops accepting data over TCP: Hunting down the stuck BGP routes
A stuck BGP route means that a prefix was advertised at some point, and then it's withdrawn but the withdrawal somehow gets lost somewhere, so part of the internet still sees the withdrawn route.
Full article / permalink
- posted 2021-04-22
► For some time, I've been hearing about Mikrotek routers, which couple being quite capable with being affordable. But I never got my hands on one. I'm now in the process of upgrading my home network, and learned about the Mikrotik hAP ac³. The ac³ defies easy classification, but I think it's mostly a home router and/or Wi-Fi access point. I paid € 95 and shipping, and I believe it's available in the US for about $100.
I was somewhat disappointed to learn that "5 gigabit ports" doesn't mean ports that are capable of 5 gigabit, but 5 ports that just ordinary 1 Gbps Ethernet. Initially it seemed the box didn't support IPv6, but it turns you have to enable that under "packages" and then reboot. (Not shutdown.)
However, I wasn't disappointed to learn that the ac³ supports RIP, OSPF and BGP, both for IPv4 and IPv6.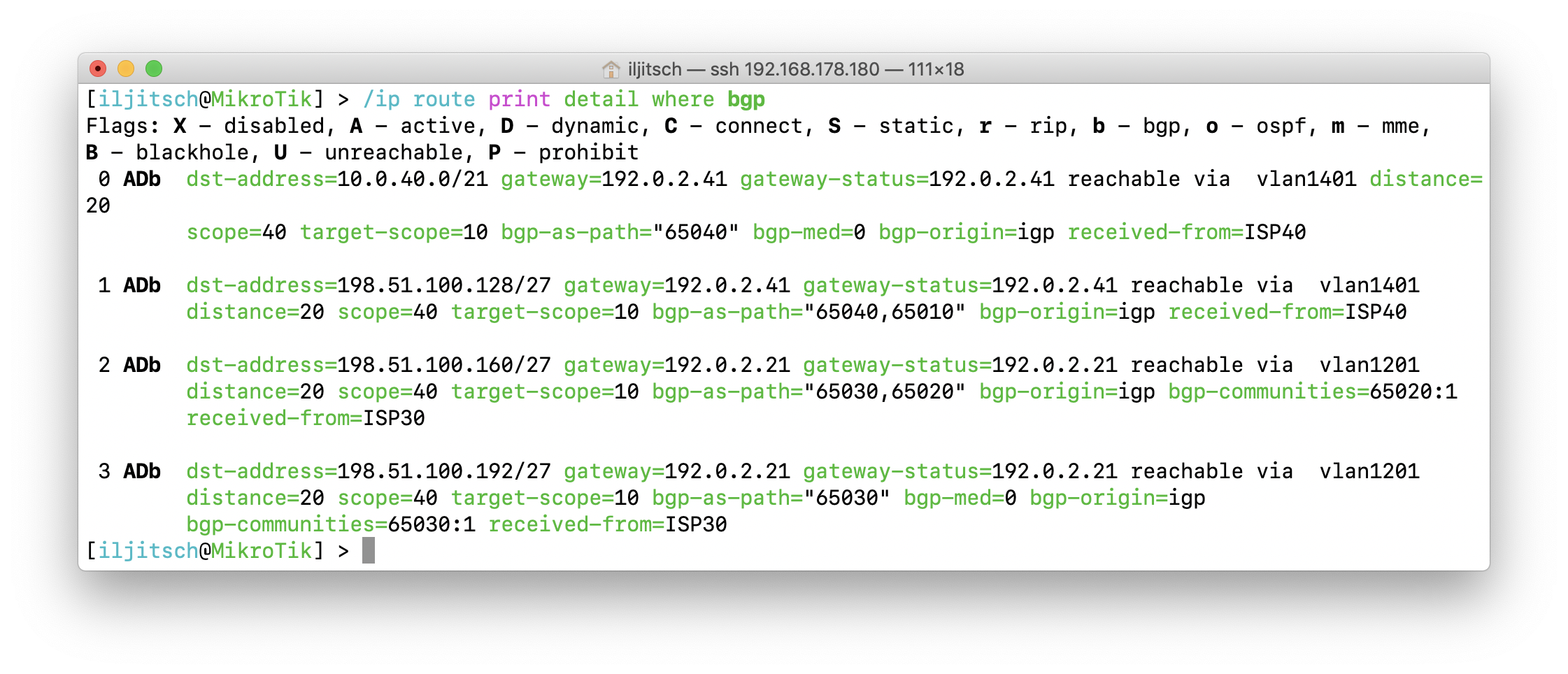 Full article / permalink
- posted 2021-04-01
An article I wrote for the Noction blog looking at possible attacks using the BGP community attribute.
A while ago, RIPE Labs published the two-part article BGP Communities – A Weapon for the Internet. That may have been a bit of a shock for those of us making good use of BGP community attributes as an important tool in our BGP arsenal.
Conclusions:
This community-based attack is definitely something we need to be prepared for and defend against. But does this warrant considering BGP communities "a weapon for the internet"? That seems a bit extreme.
But:
Treat your BGP communities with respect, you don't want to encounter their dark side.
Permalink
- posted 2020-12-07
► Recently, Cloudflare launched Is BGP safe yet?. And they immediately answer their own question: No.
What they're getting at is RPKI deployment. RPKI is a mechanism that lets the owner of a block of IP addresses specify which network gets to use those addresses. (Which AS gets to originate a prefix, in BGP speak.) RPKI protects to some forms of (mostly accidental) address hijacking. But for RPKI to work, the address owner needs to publish a "route origination authorization" (ROA) and networks around the globe need to filter based on these ROAs.
Five years ago, I wrote that RPKI is ready for real-world deployment. So where are we now? The US National Institute of Standards and Technology (NIST) has a very nice RPKI deployment monitor, showing the following graph: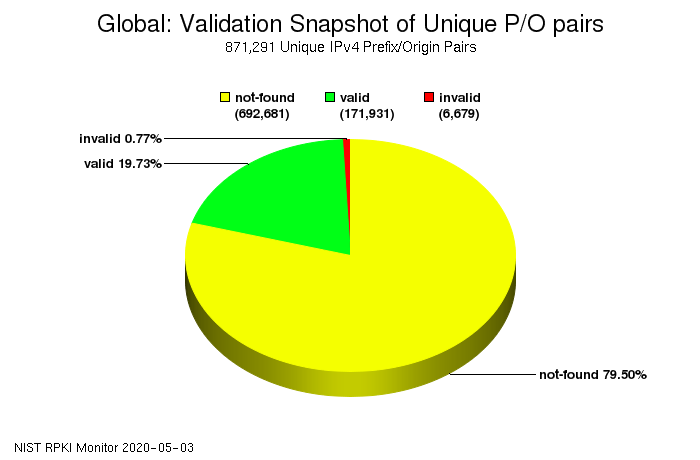 Full article / permalink
- posted 2020-05-04
This is a post that I wrote for the Noction blog:
Like other very successful protocols such as HTTP and DNS, over the years BGP has been given more and more additional jobs to do. In this blog post, we'll look at the new functionality and new use cases that have been added to BGP over the years. These include various uses of BGP in enterprise networks and data centers.
Recently, I've been looking a bit at BGP in datacenters, and it's really interesting to see how BGP is used in such different ways than it is for global inter-domain routing.
Permalink
- posted 2020-03-23